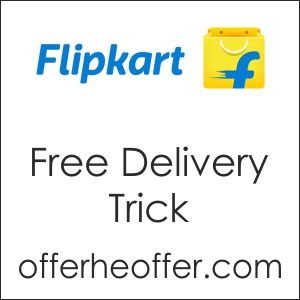 Hey Folks! Here is an awesome trick to get free shipping on flipkart for order under Rs.499. The following trick is only applicable for the seller having FLIPKART ADVANTAGE badge.
Flipkart charges Rs.40 for Shipping on order less than Rs.499 and above it, it's totally free!! So we are using this flipkart loophole here as our trick. 
Here are the steps to trick Flipkart ;)-
Suppose you want to purchase a Sunglasses worth Rs.198 by a seller having Flipkart advantage badge charging you Rs.40 for delivery.Now, if you add those glasses in your cart and proceed to pay you will see sum of 198+40(delivery)=Rs.238 at your checkout page for glasses which actually cost Rs.198.  Now here the trick begins, DON'T checkout right now.
Add an another item to your cart (eg. hair dryer) from a seller having Flipkart advantage(must) badge(lets call it trial product), which makes amount of your cart more than Rs.499.[wpsm_ads1 float="none"]
Now proceed to pay, make sure the total of both Products( Useful & trial) are more than Rs.499.
You will notice you have charged Rs.0 for Delivery of both items
Proceed to checkout and make a order confirmation by any Mode of payment( I prefer COD for these tricks).
Now go to your orders section and cancel the trial product. Trial Product will be cancelled by flipkart.
CHEERS! You have Purchased your required order under Rs.499 with free Shipping
If you like what you just read, share it with your friends.